If you are a webmaster and love to design websites but don't want the pain of creating or installing shopping cart software for your clients, then W3 Shopping Cart is for you!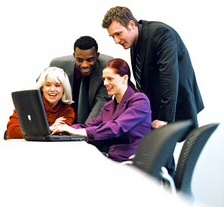 Get More Clients with W3 Shopping Cart. Now you can market eCommerce Websites as part of your portfolio. Use W3 Shopping Cart to signup, enter products and your client is selling online soon!
Get Paid to Use W3 Shopping Cart!
Two ways to refer your clients to W3 Shopping Cart.
1. Subscribe to W3 Shopping Cart yourself, using your credit card to pay monthly. Contact us first to get the reduced Webmaster rate - 20% off. You can bill your client for W3 Shopping Cart plus your support fee.
2. Have your client subscribe directly, make sure they tell us who you are so we can send you 20% of their recurring monthly subscription to W3 Shopping Cart. Receive 20% every month that your client pays for W3 Shopping Cart.
W3 Shopping Cart is very easy for you to implement! Just sign up, log in, enter basic cart setup information, add products to the cart (your client can easily do this, and later change products without your help), click "GET HTML" and copy the code into the product web pages where you want the products to appear. W3 Shopping Cart securely handles the online credit card processing and does all the hard work for you. Copy the HTML code only once per product page; no need to ever copy the code again. Your client can then add / change/ delete their own products without your help, or you can do it for them.
Build extra monthly money. We're here to support you and make it all work.
W3 Shopping Cart by W3Now